Welding inspections are extremely important for several reasons. Machinery, buildings, pipelines and other essential equipment and materials require welding that must be inspected to ensure safety and reliability.
Welding inspectors can employ various types of welding inspection. With the help of these welding inspection techniques, codes, and standards, welding inspectors can determine if a weld is suitable for its intended purpose.
But, what are these techniques and what types of welding inspection are the most common and reliable?
Let's take a look.
What is the purpose of welding inspections?
What kind of inspections can be done on a weld?
How many types of welding inspections are there?
What is the most commonly used method of weld inspection?
What is the purpose of inspection in welding?
Welding inspections are important to determine if a weld meets certain codes and standards. In Canada, weld characteristics must meet the standards set out by the Canadian Standards Association (CSA). These regulations help inspectors ensure that machinery and materials can safely and effectively be used.
Certified welding inspectors conduct examinations using a number of tools and techniques. These inspections reveal data related to the size and quality of the weld. Most importantly, they identify any flaws or defects.
Flaws and defects can result in poor performance and safety issues. Therefore, welding inspections also help companies save money by detecting possible failures before they occur. This helps to reduce costs related to incidents, and asset loss, as well as protects employees, the public, and the environment.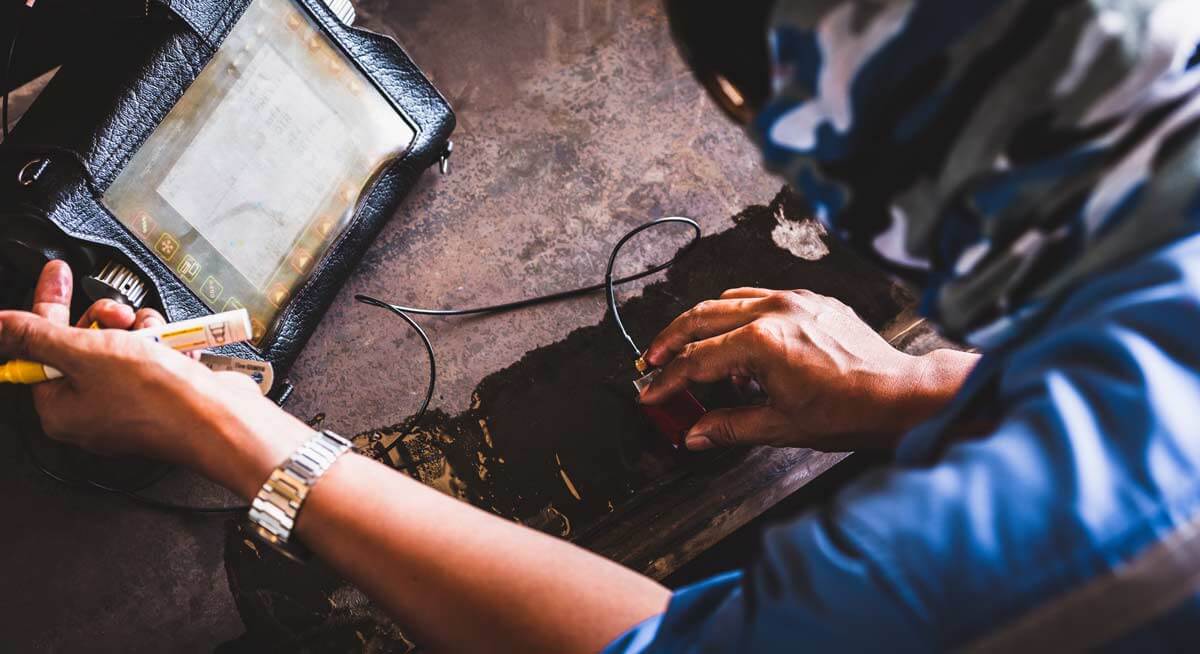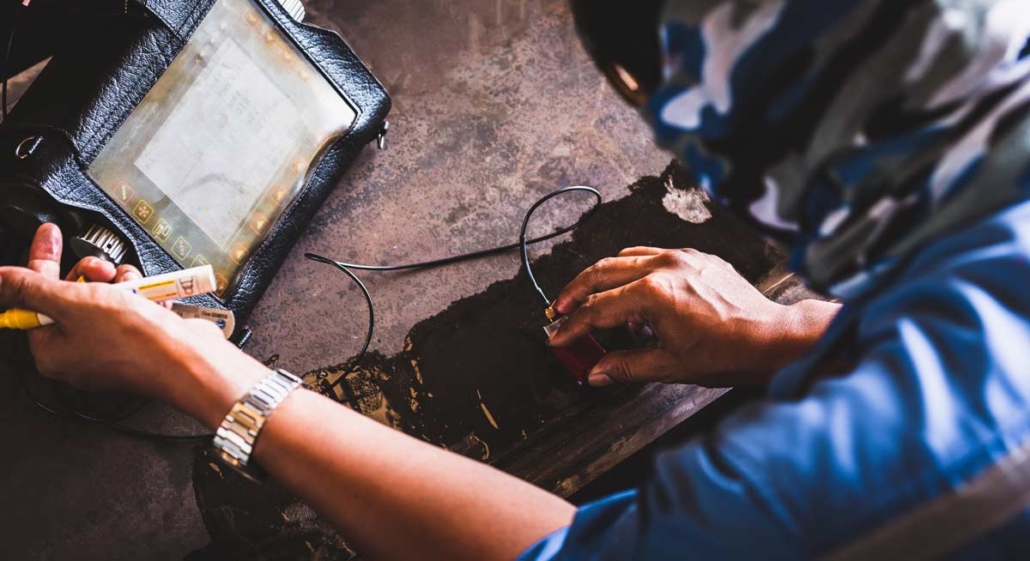 What kind of inspections can be done on a weld?
A weld can be inspected using both destructive and non-destructive techniques.
Destructive techniques physically destroy the weld to determine its viability. Commonly, when an inspector is conducting a destructive weld test, they will break a sample of the weld off to evaluate its strength and other characteristics.
On the other hand, non-destructive testing (NDT) techniques allow a welding inspector to examine the weld and its characteristics without causing harm. These techniques are commonly used by welding inspection companies in Canada.
Buffalo Inspections, for example, is a non-destructive testing company that employs NDT methods when evaluating welds.
How many types of welding inspections are there?
There are five common NDT welding inspection methods used in Canada. These include:
Visual
Radiographic (or X-ray)
Ultrasonic
Magnetic Particle
Liquid Penetrant
Each type of welding inspection offers different advantages and disadvantages. The type of inspection that should be used depends on the asset, as well as the tools and technicians available.
Visual Inspection
Visual inspection, or VT, is the simplest form of NDT welding inspection. In this case, the welding inspector examines the weld visually to determine if any surface flaws are present. Weld size can also be examined to determine any possible issues.
This type of inspection is cost-effective and can be employed while work continues on a structure or material. However, visual welding inspections are limited, as only surface defects can be recognized. As well, in many cases, VT must be conducted throughout a project, especially if more than one layer of material is being deposited.
Often welding inspection companies will begin with a visual inspection to ensure there are no obvious defects.
Radiographic Testing
Radiographic inspection (RT), or X-ray, is a non-destructive testing method that is versatile and commonly used in Canada. This NDT method is employed to evaluate the internal quality of a weld. It can be used to identify internal flaws such as cracks, non-metallic inclusions, burn-through and more.
This inspection method is beneficial because the inspection is recorded on film. This film can then be used for subsequent examination, if necessary. However, several limitations also exist. First and foremost, the quality of the inspection relies on the skills and ability of the inspector and the equipment being used. As well, not all welds are suitable for this type of inspection.
Magnetic Particle Inspection
Magnetic Particle Testing, or MT, detects surface and near-surface flaws.
This NDT method will identify welding defects immediately. As well, sensitivity can be adjusted. This allows for various levels of flaw detection. As a result, welding inspections using MT can identify minor imperfections, including tight cracks and discontinuities.
Unfortunately, Magnetic Particle Testing can only be used on ferromagnetic materials, such as iron and steel. As well, some surfaces, such as those with a thick coat of paint, will not allow for this method of inspection. In addition, like other NDT techniques, a skilled inspector is needed to effectively conduct the inspection and identify any discontinuities.
Liquid Penetrant Testing
Liquid Penetrant Inspection, or PT, is used to identify surface cracks that cannot be detected by the naked eye. This method is common for detecting leaks due to welding flaws.
Unlike Magnetic Particle Inspection, PT can be used to evaluate magnetic and nonmagnetic materials. This method of inspection can help to detect very slight flaws. PT can also detect defects in materials with complex shapes.
However, Liquid Penetrant Inspection is limiting. This is because only surface flaws can be detected. Proper pre and post-inspection cleaning is also required.
Ultrasonic Inspection
Ultrasonic Testing, or UT weld inspection, can identify both internal and surface flaws. As well, UT can identify the location and measurement of a discontinuity.
This method is extremely sensitive, allowing inspectors to detect minor imperfections that other NDT methods will not recognize.
Using phased array technology allows for even more complex and accurate inspections. Phased Array Ultrasonic Testing (PAUT) allows welding inspectors to evaluate a component from multiple angles. This means components with complex geometry can be quickly and accurately inspected. However, this method requires the most skill and experience to properly interpret the results.
What is the most common weld test?
The two most common types of weld tests include Radiographic and Ultrasonic testing. These NDT methods are commonly used because they can detect internal flaws and irregularities. In addition, they can do so without destroying or affecting the integrity of the weld.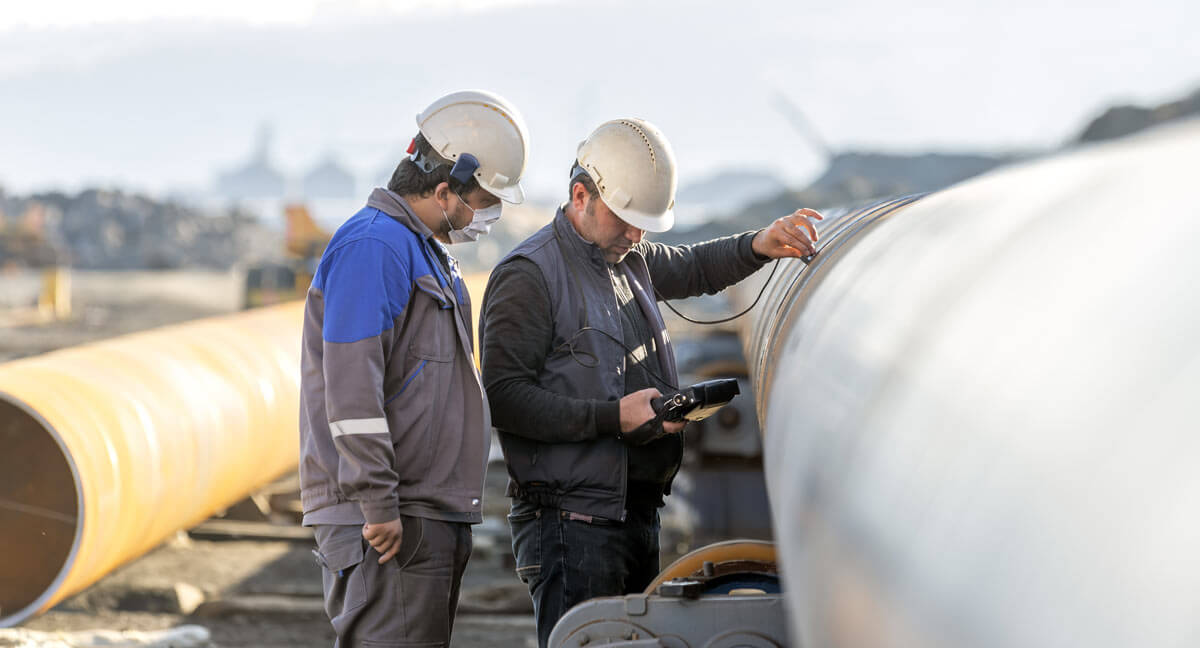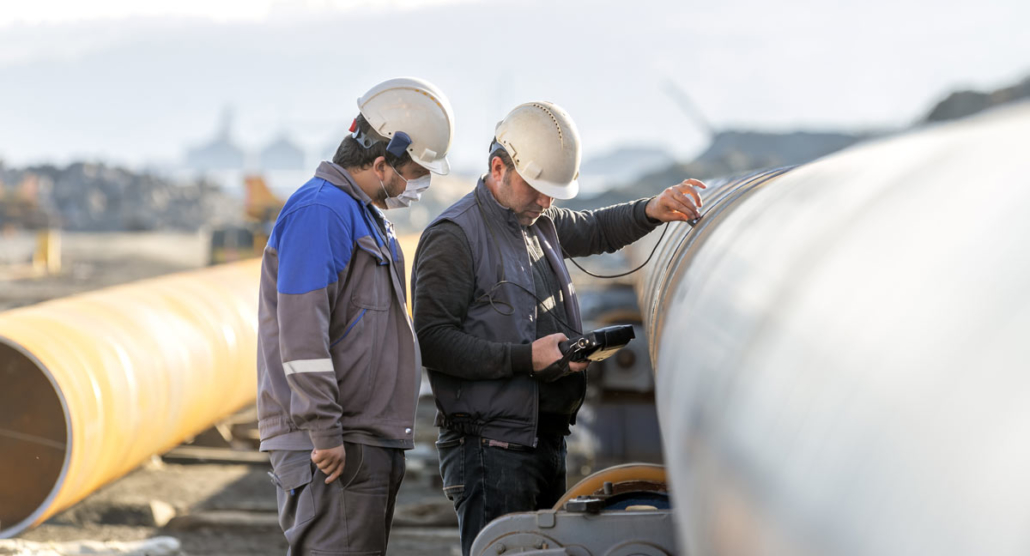 Do you require accurate welding inspections?
Buffalo Inspection Services offers NDT inspection services for CSA Standard W178.1. Our certified technicians inspect buildings, industrial structures, machinery, pipelines, piping, and more using the most advanced and up-to-date technology.
Our CWB certified inspection personnel and CWB level 3 Welding Inspector offer in-depth knowledge and valuable experience. As a result, we provide the most accurate and efficient welding inspections.
Contact Buffalo today to request a quote or schedule an inspection.
https://buffaloinspection.com/wp-content/uploads/2021/08/two-men-inspecting-pipeline.jpg
648
1200
Melissa Hamer-Jackson
https://buffaloinspection.com/wp-content/uploads/2021/05/5-LogoFull_Horizontal_green.png
Melissa Hamer-Jackson
2021-08-12 17:13:25
2021-08-12 17:13:25
Welding Inspections: Examining the Various Types of Welding Inspection